ExtraSubst
Latest version: 8.8 | From: August 28, 2023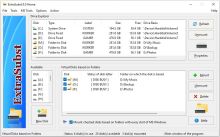 ExtraSubst - the program is designed to make access to frequently used folders of your computer much easier. ExtraSubst expands the capabilities of the system subst.exe utility and creates virtual disks on the basis of selected folders in both system modes: Elevated and Non-Elevated using GUI interface. Physical drives remain unchanged and are not divided into additional partitions. ExtraSubst is compatible with ExtraDisks software.
Examples of using:
Example 1: By default the folder "My Documents" is situated in the operational system MS Windows rather uncomfortably: "C:\Documents and Settings\User Name\My Documents\" With the help of the program ExtraSubst you can create a virtual disk - for example disk D: and select "My Documents" folder. After that, in your system the disk D: will appear in which your documents will be kept. To access your documents you just click the disk icon D: and there is no need to look for it in a folders tree.
Example 2: You can create virtual disk for any folders which you work often. For example, you can create disk M: for the folder with your musical files "e:\archive\music\", disk V: for the folder with your video files "e:\archive\video\" or disk G: for the folder with your games and you do not need to divide your hard drive into additional partitions for that.
Example 3: If you are a web designer, you can make the project folder a separate drive. In this case, your project will be the same as if it were on a server on the Internet.
Program interface consists of three basic parts:
Drive Explorer – shows all used drives of your computer with necessary information about them. When you double-click on selected drive, "Explorer" with selected drive will be opened. In this part of the program interface you can also remove selected virtual drives with the help of "Remove" button.
Available Disks – the list of available drives of your computer. This part of the program interface is used for creating virtual drive. When you select the disk and press the button "New" or double-click the selected drive a virtual drive is created in your system and the record about it is placed in the list "Start Up Virtual Drives".
Virtual Disks based on Folders – the list of records about created in the operation system virtual drives. In this part of the program interface you can adjust the list of drives initialized during start up of your computer.
Minimum system requirements:
Operating system: MS Windows 11/10/8.1/8/7/VISTA x86 x64
Minimum screen resolution: 1024x768
32 MB free disk space
256 MB RAM
Size: 2 MB
Download "extrasubst.exe"Download "extrasubst.zip"
Download "extrasubst64.exe" 64-bitDownload "extrasubst64.zip" 64-bit
ExtraDisks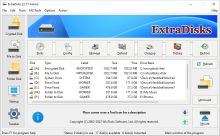 ExtraDisks is an extended version of ExtraSubst. ExtraDisks includes additional tools for creating Encrypted virtual disks, Virtual disks based on files, Virtual disks based on folders, a startup manager for disabling third-party software, and a set of tools for configuring the MS Windows operating system. Physical drives remain unchanged and are not divided into additional partitions. ExtraDisks is backward compatible with the ExtraSubst software.
System requirements:
Operating system: MS Windows 11/10/8.1/8/7/VISTA x86 x64
Minimum screen resolution: 1024x768
32 MB free disk space
256 MB RAM
Size: 2 MB