Our Awards
Special Offers
Please visit our Special
Offers and Discounts page
No sales Tax/VAT!
you save $5-8
on every purchase!
Recommend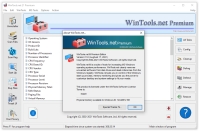 WinTools.net Premium a set of tools to improve the performance of the MS Windows operating system. WinTools.net completely removes unwanted software from drives and dead links from MS Windows registry. WinTools.net gives you control over the Windows startup process, memory monitoring, and gives you the ability to customize your desktop and system settings to suit your needs. Improves the speed and stability of your connection. Keeps your privacy and keeps confidential information safe. WinTools.net Premium contains tools: Clean Uninstaller, Scan Files, Scan Shortcuts, Scan Registry, Startup Manager, Tweak UI, Net Tweaker, Duplicate Files, The Privacy, Invisible Man, File Shredder ...

OS: MS Windows 11/10/8/7/VISTA/Me/XP/2000
Download size: 3 MB
Feedback
Please send your comments and defect reports to [email protected]

We also welcome your suggestions regarding improving the quality and ease of use of our software.

Thank you for your support!